Desert Christian Volleyball Wins Undefeated Championship Title | Sports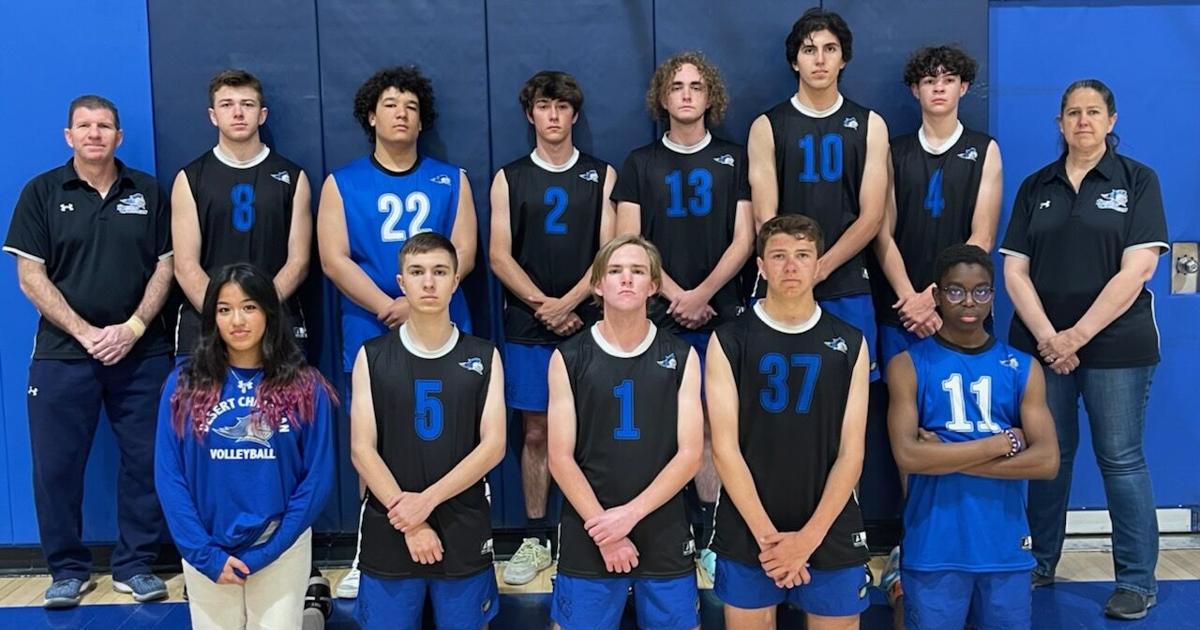 PALMDALE — The Desert Christian Boys' Volleyball Team finished their Heritage League Championship season undefeated also not dropping a set after a 25-11, 25-13, 25-10 victory over the Palmdale Aerospace Academy on Friday.
Junior outside hitter Cade Schmidt led the Knights (19-3, 12-0 HL) with 21 kills, one block and seven aces on 13 serves, while freshman setter Colt Schmidt recorded 32 assists, five kills and six aces on 21 serves.
Second-year Desert Christian middle tackle Zachary Bell had six kills, senior opposing hitter Kody Del Frate produced five kills and two blocks, junior outside hitter Sean Worrell contributed three kills, a block and an ace , senior Cody Royster had two kills and junior libero Ja' Hari Jung added nine digs.
The Knights are now awaiting the CIF South Section playoffs, which will be announced on Monday. The team will likely have a home game on Thursday.
PALMDALE — The Highlands baseball team beat Palmdale 16-3 in a Golden League game on Friday.
Junior pitcher Carter Wood took the win on the mound, allowing three runs on three hits and striking out seven in five innings for the Bulldogs (19-6, 11-1 GL). Sophomore Caleb Montemayor threw the final two frames scoreless, allowing one hit and striking out five.
Montemayor was also 2 for 5 with a run and an RBI, while senior Darren Roberts was 2 for 5 with a double, three and four RBI, senior Tony Cano went 2 for 4 with two runs and an RBI. RBI and second Will Paxton was 2 for 4 with a double, a run and an RBI.
Highland senior Shea Lewis notched a hit, scored two runs and drove for three, while second Christian Arreola hit a triple with a run and two RBIs and second Luke Manzano added a double and two points.
Senior Nathaniel Mealançon was 2-for-4 with a run, an RBI and two stolen bases for the Falcons (4-17, 2-10), while Danny Villa and Andrew Del Rio added a hit apiece.
Highland ends the season with a two-game series against Quartz Hill on Tuesday and Thursday next week, while Palmdale takes on Lancaster.
CALIFORNIA CITY — The Rosamond baseball team beat California City 6-1 to stay tied for second in the High Desert League standings on Friday.
Freshman pitcher Gavin Ament pitched a full game on 77 pitches for the Roadrunners (8-9-1, 6-2 HDL), allowing one run on four hits and no walks, while striking out eight batters.
"Ament threw a full game for them and pitched really well. He was very effective," Cal City coach Shane Moore said.
Junior Daniel Flores led Rosamond to the plate, going 3-for-4 and just one homer off the cycle with a single, double and triple.
Junior third baseman Andrew Fuentes led the Ravens (6-9, 1-6) at the plate, going 2-for-3 with a brace and the team's only RBI, and did well on defense.
"He had a really good defensive game for us," Shane Moore said. "He played well at third base today. It was a very positive match for him. Good progress. »
With Cal City freshman Blake Moore unavailable due to pitching, his sophomore brother Jack Moore replaced the Cal City pitcher, allowing six runs on seven hits with four walks and four strikeouts.
"He pitched well," Shane Moore said. "We were at an impasse and he pitched for us."
Sophomore Henry Ramsey threw a scoreless seventh for the Ravens.
California City plays Desert on Tuesday, while Rosamond plays Frazier Mountain.
Stroke 19, San Diego Mesa 8 (5)
Stroke 15, San Diego Mesa 3 (5)
LANCASTER — The Antelope Valley College softball team swept a non-conference doubleheader against San Diego Mesa on Friday in its final regular season home games.
The Marauders won both games via mercy rule in five innings with a 19-8 win in Game 1 and a 15-3 win in Game 2.
"We hit the ball really well today," AVC coach Cindy Vargas said. "I'm always working to improve on the defensive side of the ball."
The Marauders (27-12) made two errors in the first game, but none in the second.
They led 8-4 late in the third inning of Game 1, but opened the game with 10 runs in the frame.
Designated player Amy Manzo went 3-for-4 with a double, two home runs and seven RBIs for AVC, while lead-off hitter Ariel Nieto went 3-for-4 with a double and a grand slam.
Savannah Cervantes had a hit and two RBIs, while Nayely Delgado had a brace and two RBIs and Natalie Gomez added a hit and two RBIs.
Mycaela Chavez also scored a brace, while Trinity Holman caught an RBI sack fly and Maeyll Grimes made a run on a groundout.
Emmeliz Sera picked up the win, allowing eight runs — six earned — on seven hits and five walks with three strikeouts in five innings.
In Game 2, the Marauders again opened the game in the third inning with eight runs.
The three points awarded came at the start of the fifth inning.
Delgado was a triple out of the cycle, going 3-for-3 with a double, a Grand Slam homer and six RBIs, while Nieto went 3-for-3 with a double, a homer, three runs scored and three RBIs. .
Holman hit a two-run homer, while Victoria Alcantar went 2-for-3 with a two-run shot and Johnson added a hit and an RBI.
Alcantar also took the win in the circle, allowing three runs on four hits and four walks with five strikeouts in five innings. She threw 89 pitches with 60 strikes.
AVC will play its final game of the Western State Conference season Tuesday at College of the Canyons.