Phoenix Art Museum's New 'Desert Rider' Exhibit Explores the Artistic Influence of Automotive Culture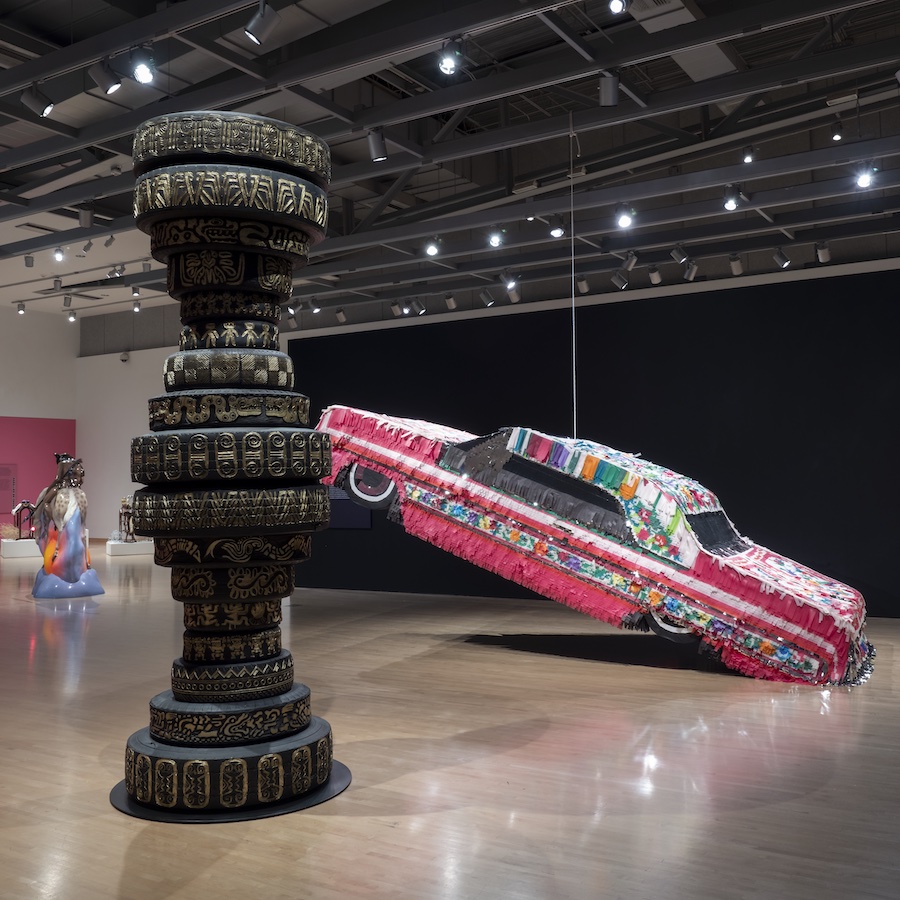 desert rider, a special engagement exhibit at the Phoenix Art Museum, explores the influence of automotive culture on artists working in the Southwest. Various works by local Arizona artists, including Cara Romero, Justin Favela, and Liz Cohen, illustrate the important role that custom cars and lowriders have played in the cultural identity of Latin and Native communities.
Organized by Gilbert Vicario, curator of contemporary art, desert rider presents the world premiere of several works commissioned specifically for the exhibition. Large-scale installations, prints, sculptures and more are on display by Latino and Indigenous artists, each drawing inspiration from the custom car and lowrider culture of the Southwest.
The lowrider phenomenon became a counterculture development and form of civil protest for Mexican Americans in postwar society of the 1950s and 1960s. The cars were statements of defiance, cruising inches above the pavement. Vehicles customized with cultural and religious imagery and brightly painted hoods rejected traditional automotive aesthetics. Today, the lowrider remains a symbol of individuality, cultural identity, resilience, and pride for many in the Latinx and Chicanx communities.
"This exhibit amplifies voices that challenge preconceived notions around self-identification and self-creation," says Mark Koenig, Acting Director of Sybil Harrington and CEO of the Phoenix Art Museum. "desert rider gives Arizona audiences the opportunity to see how Indigenous and Latino perspectives and interpretations of the automotive and skateboarding subcultures define Southwestern regional identity.
The exhibition also explores the influence of motion, motion and the ubiquity of automotive culture in contemporary art and interrogates concepts of masculinity and femininity with featured works by Liz Cohen, Sam Fresquez, Corlotta Boettcher and Moreover.
"desert rider explores the ways in which automotive culture in the Southwest has influenced the work of contemporary Latino and Indigenous artists who examine the intersection of movement and motion, migration, gender, sexuality, work and identity says Gilbert Vicario, curator of the exhibition. "It's important to recognize all of the artists represented who are members of communities that have been forced to the margins of our geographic space, experiences that parallel the history of the lowrider itself."
Commitment and information desert rider The exhibition is on view until September 18, 2022 at the Steele Gallery of the Phoenix Art Museum. Discover works specially created for desert rider including Justin Favela's scale lowrider made from cardboard and other materials. A complementary exhibit also highlights iconic lowrider publications and historical archives.
Learn more at phxart.org.