The SAN PEOPLE of the Kalahari Desert in Namibia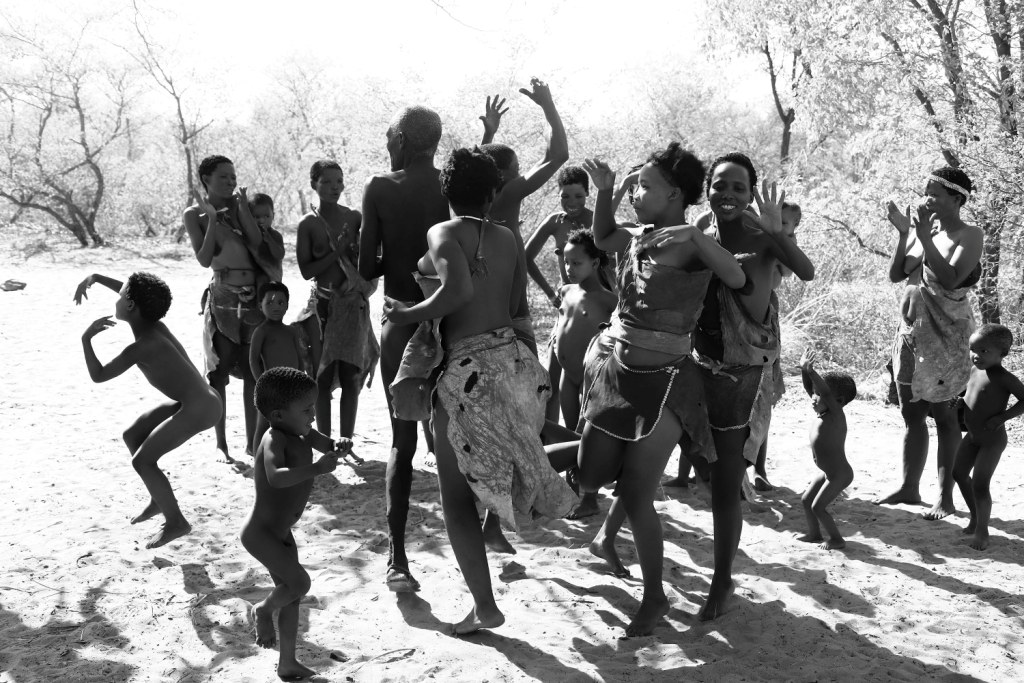 Korean photographer Shin Misik had literally brought the San people of the Kalahari Desert to the gallery. Some large framed photographs of the amazing ancient African indigenous peoples and their habitat. The vividly depicted landscape images on them, artistically captured, will give you goosebumps. The photography exhibition was open to the public from May 7 to 17, 2022 at Promise Gallery in Seoul.
Shin Misik is a photographer and philanthropist, who has built public libraries in Madagascar and Ethiopia. His profile indicates that he is a documentary photographer, who works based in Africa. Following his first trip to Africa 14 years ago, he has traveled to Africa almost 90 times so far. For nearly six months, he encounters strangers in a strange place, living the life he dreamed of. He is a person who dreams of being special for people who live ordinary lives through writing and photography. He first bought a camera when he was 30 and made his debut as a writer when he was 42. Over the next 20 years, he worked as a freelance photographer, serialized writing and photography in various media, published 37 books, and curated 20 solo exhibitions.
For me, visiting some Shin exhibitions and having his 38e book was a blessing (The San People: Namibia Kalahari Desert, 2021). I always feel delighted to meet him in person and surprisingly he has so many stories to tell me about our country, Ethiopia and Africa. Literally speaking, he had personal exhibitions on all continents of the world.
On the artist's note, Shin recounts the inspiration, where it came from and why he was holding his last photo exhibition. He says: It was in November 1983 that the Bushman entered my heart through the film Bushman (original title: The Gods Must Be Crazy). Since then, the thought of the Bushmen has always been strangely present in me. I decided to tell a story about them one day. I don't know why they have been on my mind for so many years like fate.
I met the Bushmen by chance in South Africa in May 2008. It was the first time I had met the Bushmen who had been in my heart for a long time, and I learned about them and the situation in which they were. met the Bushmen for the first time, I went in search of the Bushmen in Namibia. The sight of a Bushman I met in the arid desert was shocking. People who didn't seem to exist in the real world, their unique looks, the language I had never heard of and the dance that seemed to contain their souls unfolding before my eyes. Watching them dance nonstop for hours, I had to ask the endless questions, "Where am I right now?" I felt deep sympathy for them as they tried to show everything in front of me, as if they had been watching for me for a long time. Why did sadness seep into me in the first place even watching the exciting songs and dances? I knew that every gesture and every step they took contained their life story.
I tell the world the story of the oldest tribe in Africa, the free hunter, says the photographer. Bushmen who have lived on hunting for survival, their traditional way of life, which was handed down a very long time ago, has been completely shaken, and they are enclosed within a protected area, wearing clothes that don't suit them at all. It is unacceptable for humans to control humans. It should not be done to drive out the people who originally owned the land, fence them in and control them, subsidizing them with pennies as if to show mercy.
The San (Bushmen) are the oldest inhabitants of southern Africa and have lived there for at least 20,000 years, currently living in Botswana, Namibia, South Africa, Angola and Zimbabwe.
Photo credits: Shin Misik and Bereket Alemayehu