Visiting Sossusvlei: A Conservation Journey Through The Namib Desert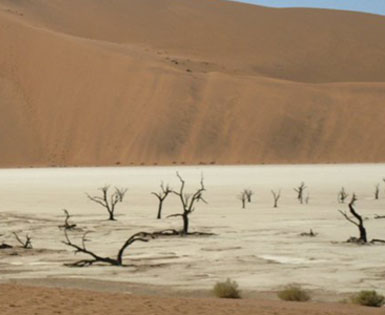 [ad_1]
The perception of raw aridity is belied by a surprising amount of life: insects and lizards, the colorful opportunists. A solitary acacia brings solace to sociable weavers, small birds who have built a number of large, interconnected nests in its branches. I sit on a flattened stone and admire the palette of colors created by the receding sun. Aim, click, sigh. My camera does not capture them. Is it a gift or a curse? There is something to be said about the mental image that no one else can see.
The story continues after the gallery.
Other pictures are collected the next day, as I leave early to Dune 45, the most photographed in the world. I take off my shoes and run back to the base, eager to beat other tourists who have started arriving by bus. Climbing seems easy, but the soft, ever-changing sand makes the ascent difficult: I am forced to take frequent breaks, swirling my bare feet in the sand as it spirals around me, constantly restructuring the ground below.
I see fog hanging from the tops of the dunes, beetles and birds. From dune 45, I head to Big Daddy, the highest dune in the world, then I continue to the Sossusvlei salt and clay pot. I end in Deadvlei. It is here that white and orange are joined by eerie tones provided by dead acacias, blackened by the scorching sun.
The sun eventually goes out once more, awakening life in the desert. The hungry jackals approach the desert camp before sneaking into the thick of the night where they bypass other scavengers and cry for each other. Finally, the morning rises, bringing with it a chorus of birds. So many birds, whose calls seem to cry: "This is Africa!"
Image: Millie Kerr.
We want to know what you think of this article. Send a letter to the editor or write to letters@theatlantic.com.
Millie Kerr is a freelance writer and creator of An Expat's Guide to London. A former lawyer, Millie now writes primarily about travel and wildlife conservation issues.
[ad_2]