Which has the best desert landscape?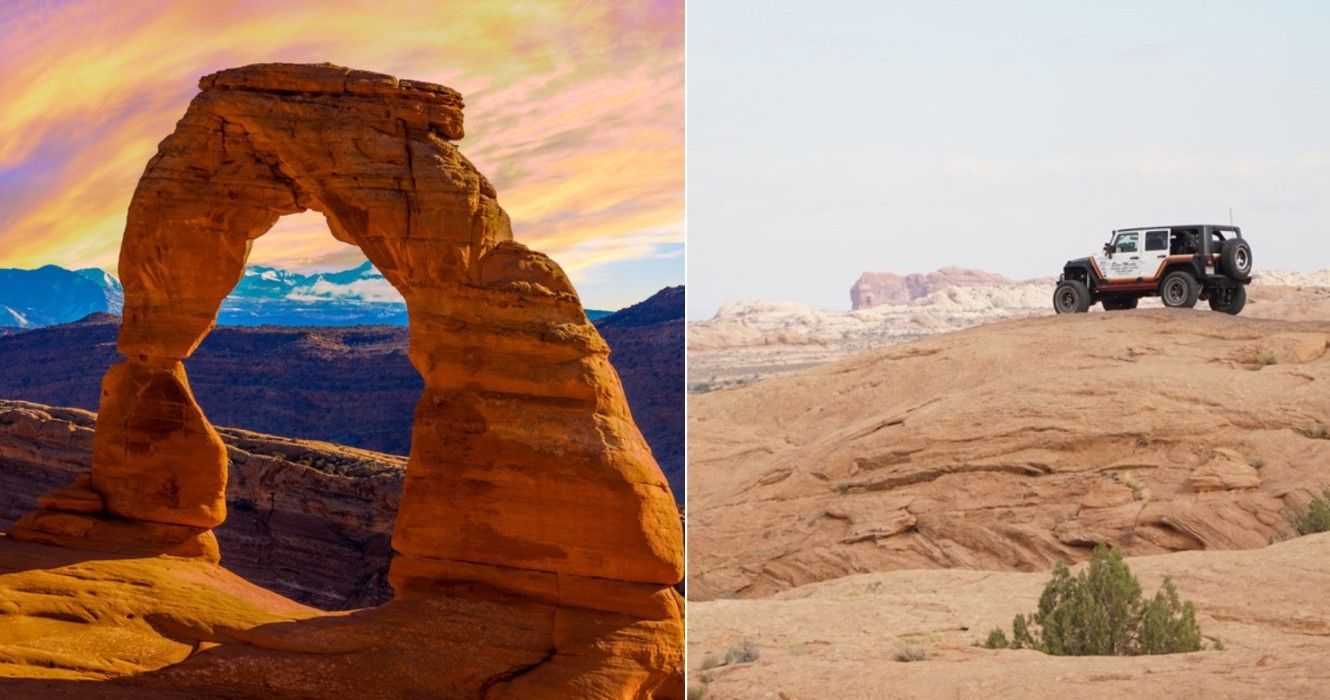 Quick links
About Arches National Park
If travelers are looking for a beautiful and unique desert landscape, Arches National Park and Moab are great choices. Both areas feature deep canyons, massive fins, and towering walls made up of buttes and pinnacles of red rock. However, one stands out when it comes to natural attractions. Here are more details for tourists looking to compare the two desert landscapes.
About Arches National Park
Arches National Park is famous for its over 2,000 natural stone arches. Many arches have names and have their own unique stories to tell. The park is also a world famous destination for hiking, backpacking and mountain biking. Arches offers many other activities including self-drive road tours, camping, rock climbing and canyoning.
Related: Moab Is Famous For Many Reasons, But These Are Traveler Favorites
Arches National Park sits at a high elevation, ranging from 4,085 to 5,653 feet above sea level. It is located in the Colorado Plateau region of Utah. Much of the park is mostly undeveloped, unconnected by existing trails, and has a limited water supply. Although Arches National Park is best known for its outstanding geological features, it also boasts priceless cultural artifacts and delicate high desert ecosystems.
Staying hydrated is key. Visitors should therefore plan to bring all the necessary water as it is not readily available in the area. Steep terrain, loose rocks and flash flooding are the main safety issues here.
Arches National Park is home to abundant wildlife. Tourists can find antelope, ground squirrels, sparrows, red foxes, peregrine falcons and desert sheep. Some notable plants include prickly pear, grasses, Utah juniper, and Mormon tea.
About Moab
Due to its location on the Colorado Plateau, a region of high elevation and arid conditions, Moab receives less precipitation than other parts of Utah. Thus, it tends to have fewer trees and other vegetation.
Related: Where to Stay in the Moab Desert to Give You a Taste of Its Best Sights
Moab is a popular tourist destination for good reason. It has dozens of hiking trails that lead visitors through stunning landscapes. Lasting from a few hours to several days, these trails traverse beautiful desert landscapes with rocky terrain and steep inclines that require advanced riding skills.
The topography of the area is ideal for a variety of recreational activities. The rugged and off-road routes are popular with mountain bikers, hikers and quad bikers. It is the ideal place for adrenaline seekers and those who love photography.
Between the Colorado and Green Rivers is the White Rim Road, which cuts through attractive sandstone. Due to the growing popularity of driving and cycling, day use permits are now required. Relevant authorities around Moab have taken appropriate measures to enhance the desert experience for all visitors while limiting negative environmental effects.
Moab is also known for its stunning red rocks. The terrain travelers can explore is varied, with elevation changes and challenging climbs. Rafters and kayakers can navigate the quiet sections of the Green River and Colorado River. Strong whitewater rapids resembling those in the Grand Canyon can also be found in Moab's Cataract Canyon.
Notable wildlife tourists can spot around Moab include black bears, mule deer, bald eagles, and bluebirds. Cacti, wildflowers, and pinyon pine are some of the common vegetation in the area.
Arches against. Moab
The American Southwest is home to some of the most breathtaking natural views, and Arches National Park and Moab are just a short drive from each other. When deciding where to vacation, time-pressed tourists may find it hard to choose between the two destinations.
Both are on the Colorado Plateau, which is one of the most spectacular geological regions in the world. Arches National Park sits at a higher elevation above sea level than Moab. This means that the latter can be hotter in the summer.
There is no doubt that Utah arches are impressive. But they aren't as stunning as the rock formations of the Moab Desert. Red rock cliffs, stunning sandstone formations, mesas and buttes are common sights around Moab. The high snow-capped peaks of the La Sal Mountains also provide a stunning environment for photo taking. Some travelers say these unique landscapes represent America's best examples of spectacular natural occurrences.
Travelers won't find much of a price difference when visiting Arches National Park and Moab. The main expenses to consider are the cost of admission fees for a private vehicle, camping fees, and personal supplies like food and water.
When comparing the accessibility of Moab with Arches, travelers will generally come to the conclusion that both have paved roads, clearly marked trailheads, and well-equipped visitor centers. However, their layout and size vary slightly. Moab has multiple entry points, unlike the single, well-defined entry point at Arches National Park.
Arches and Moab are two spectacular desert landscapes that visitors will want to see, but which is better? Well, it also depends on personal preferences. But Arches has a rock and sandstone landscape that's fascinating, while Moab has incredible rock formations, and it's a big challenge for those who like a little rock climbing.